Leadership Team
Our church has a history of strong pastoral leadership, a thoughtful and intelligent approach to the scripture and a loving, caring concern for all who attend. This history is combined with a desire to link the clergy and laity in the structure and organization of our church. Our desire is a continuous spiritual growth combined with involvement and engagement with the community and the world.
Our Minister leads the staff and administrative functions accountable to the congregation and supported by the Congregational Council, Diaconate and the Ministry Teams.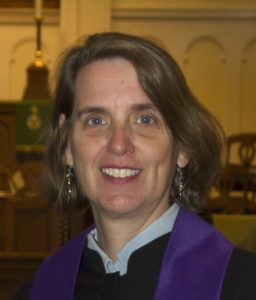 MARTHA KEARSE,
Senior Pastor
Before coming to us, Martha
became a minister in the life of St. John's Baptist Church, Charlotte, VA in 2001 as the Minister to Children and Family Life and was installed as Associate Minister in February, 2012.
Growing up in central Virginia, Martha graduated high school in Lynchburg. She then earned her BA in English and Education at the College of William and Mary. In 1985, she moved to Charlotte to teach high school English until 1997. Martha received her Master of Divinity in Pastoral Studies from the M. Christopher White School of Divinity at Gardner-Webb University in 2007 and was ordained by St. John's Baptist Church that same year. She received her Doctorate in Ministry at Gardner-Webb University in 2017. Martha and her husband Monty have four children: Mattie, 22 and a recent graduate of UNC-Wilmington; Conner, 20 and a junior at UNC-Greensboro; Anna, 17 and a senior at Myers Park High School.
In pursuit of sanity, Martha likes hiking in the mountains, reading books, watching movies, taking walks with friends, binge-watching Netflix, dogs, happy music in most categories (except jazz), riding a bike in the country and chocolate. She likes jeans over dresses, flats over heels, blue over red, Jesus over Paul, and chocolate over just about any other food you could mention.
DONNA JOHNSON, Administrative Assistant Donna Johnson has worked in a church environment since 1990. She worked for Peakland's second minister, Nathan Brooks, as the Administrative Assistant, until his retirement. Donna also worked for The Rev. Steve McNeely at Peakland until she and her husband, Sam, moved to Richmond, VA., in 2005. In Richmond, Donna worked at Woodland Heights Baptist Church in Richmond as the Administrative Assistant for three years. Sam and Donna had the opportunity to return to Lynchburg and they were thrilled to return. Donna then went to work for Westminster Presbyterian Church in Lynchburg for six years. An opportunity became available for Donna to return to Peakland as Administrative Assistant, and she is thrilled to be back at her home church. They have one son, Jason, who is married Melissa, and Sam and Donna are the proud grandparents of Jacob and Isabelle. peaklandbaptistchurch@verizon.net
DEBBIE BURTON, Music Director

Deborah Burton has served as Director of Music at Peakland Baptist Church since 2003 and holds a B.A. in music from Bluefield College and a Master of Music from Converse College School of Music. She is the June McGraw McBroom Chair of Fine Arts and instructor of music at Virginia Episcopal School. For seven years prior to moving to Lynchburg, Ms. Burton was an Assistant Professor of Music at Bluefield College.
ALLAN HEER, Organist
Allan graduated from Bucknell University in 1962, He has been playing organ and piano for churches all of his semi adult life. In addition to playing for Peakland Baptist Church, Allan is also happy to be the organist for the Traditional Services at Holy Cross Catholic Church on Clay Street. Allan's talent is in demand as an accompanist around Lynchburg, and he often plays for weddings and Bar Mitzvahs. Allan is married to Angela, a member of the choir, has 2 grown daughters and 6 granddaughters.